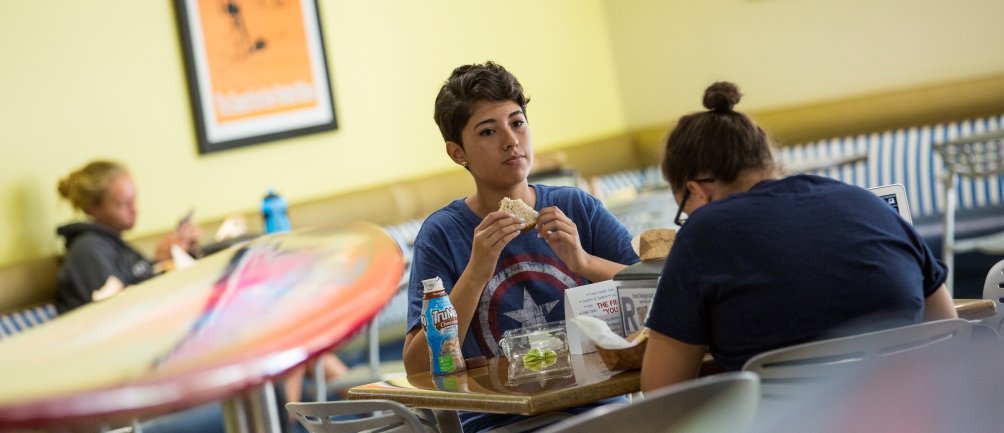 During their program, students will have access to three meals a day in The Lair Marketplace, a 4-star Certified Green Restaurant and LMU's premier dining facility. Conveniently located in the heart of campus on the ground floor of the Malone Building, student meals are served in an all-you-can-eat style, accessible via a program-issued Access Card.
Here is just a sample of what students can choose from:
Yogurt and Oatmeal Bar

Bacon and Egg Panini

Custom Order Omelets

Apple Pancakes

Falafel Greek Sandwich

Build Your Own Salad with Roasted Tomato Soup

Cheeseburger and Fries

Lemon Chicken with Herb Roasted Potatoes

Chicken Fettuccine Alfredo

Build Your Own Burrito Bar

Fresh Baked Cookies and Brownies

Grilled Italian Vegetable Wrap

Build Your Own Salad with Chicken Noodle Soup

Chicago Style Hot Dogs

Glazed Ham with Fresh Seasonal Vegetables

Grilled Tofu Pad Thai

Build Your Own French Fry Bar

Chocolate Chip Bread Pudding
Food allergies? No problem!
We can accommodate most dietary restrictions, just be sure to let us know well in advance of your arrival on campus. LMU was named the 5th top Gluten Free accommodating college by Udi's Gluten Free in 2015!